Communication Associate: Public Relations
| Lori Melton |
lmelton@d.umn.edu
| (218) 726-8830
---
December 1, 2006
Susan Beasy Latto, Director, UMD Public Relations 218 726-8830 slatto@d.umn.edu
Vicki Hansen, Professor, Department of Geological Sciences (218) 726-6211 vhansen@d.umn.edu
To view the New Scientist Space article click here
http://space.newscientist.com/article/dn10427-venuss-surface-may-be-much-older-than-thought.html
UMD Professor's Study of Planet Venus Featured in
New Scientist Space Magazine

Research Indicates Planet Surface Much Older Than Previously Thought
Venus's Surface More Than One Billion Years Old
A study of the planet Venus by the University of Minnesota Duluth (UMD) Professor of Geological Sciences Vicki Hansen and her research group, which included undergraduate student Taylor Nordberg, was featured in a recent on-line edition of the New Scientist Space magazine. The prestigious science magazine reports that the team's advanced analysis of the surface of Venus indicates the planet surface records a much longer history than previously thought.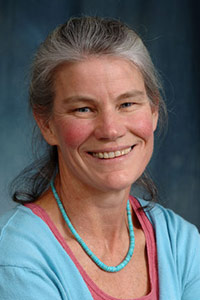 "The implication is that Venus on its surface preserves an extremely long record of rich geological history," study leader Hansen told New Scientist. "That is what is so exciting about it. It says Venus actually has a lot of secrets to tell us."
Hansen and her research team suggest that much of the surface of Venus is more than one billion years old. If this is correct, sending new missions to the planet could probe much further into its past than previously realized, Hansen said. Previous studies, made by planetary scientists in the early 1990s estimated the planet to be 500 million to one billion years old.
Hansen's group based their startling analysis on their calculations of the surface of Venus. According to the study, the lava blanket proposed by many to cover Venus's surface, must be quite thin, less than one kilometer thick in many places. The results indicate that Venus's resurfacing processes occured slowly, leaving much of the planet's older surface undamaged.
The new analysis challenges the earlier catastrophic volcanism theory, which suggests that Venus was totally resurfaced in a single violent episode of volcanism 500 million years ago. This earlier theory estimated the lava layer covering the surface to be one to three kilometers thick accross 80% of the planet surface.
The Hansen team study of the resurfacing process reconfirms other recent studies made by scientists from three universities in the United Kingdom: University College, the Imperial College of London, and Oxford University.