Communication Associate: Public Relations
| Lori Melton |
lmelton@d.umn.edu
| (218) 726-8830
---
August 22, 2006
Susan Beasy Latto, Director, UMD Public Relations 218 726-8830 slatto@d.umn.edu
Cheryl Reitan, Publications Director 218 726-8996 creitan@d.umn.edu
See websites for complete schedules:
http://www.d.umn.edu/unirel/homepage/06/statefair06.html
http://www1.umn.edu/statefair/
UMD Will Have Strong Presence at State Fair
"UMD at the State Fair Day"
is August 30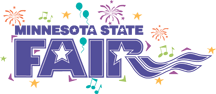 UMD will have a strong presence at the Minnesota State Fair this year. A UMD booth, located in the Crossroads Building (the University of Minnesota Building) on Dan Patch Avenue (just off Snelling Avenue) will be staffed daily for four days (Monday, August 28 - Thursday, August 31).
Area residents are cordially invited to stop by to chat with UMD staff and faculty and learn about UMD projects and programs. There will be UMD t-shirts, hats and other merchandise available.
Each evening from 4 - 8 p.m. staff from a UMD department/program will take over as booth hosts:
Monday, August 28 UMD Alumni Night and College of Education and Human Service Professions
Tuesday, August 29 Master of Advocacy and Political Leadership Program and College of Education and Human Service Professions
Wednesday, August 30 GLBT Night at the Fair
Thursday, August 31 UMD International Education Office
In addition, special guests will also be at the booth each day:
"UMD at the State Fair Day" is August 30 where UMD faculty and staff will present a stage show from 11 a.m. to 3 p.m. The stage is located just outside the Crossroads Building.
Susan Beasy Latto, UMD Public Relations Director will be the master of ceremonies.
UMD Stage Show will include:
Dem Bones: Geological Sciences assistant professor Tim Demko and his students will prep dinosaur bones for all to see and answer questions from the audience. On the hour and the half hour, they'll describe the bone prep process.
Wicked Rocks: Scott Wolter, UMD alumnus and geology expert, will show agates from his collection, the largest collection of Lake Superior agates in the world. His Native American Minnehaha Falls artifact and others - some bigger than cantaloupes - will be on display. Wolter will also share stories of his adventure with the Kensington Rune Stone.
Health and Wellness: World champion, endurance athlete "Rocket" Rod Raymond (UMD Wellness Coordinator) will talk about achieving optimal health.
The State Fair runs from August 24 through Labor Day.