Growing Program is Strong and Successful
The UMD Masters in Business Administration (MBA) Program in Rochester, Minnesota continues to grow in size and reputation, as it begins its fifth academic year. Starting Spring Semester 2002 with an initial batch of six students, the program has grown to just over forty students enrolled in executive-style weekend classes held at the University Center Rochester (UCR) campus in cooperation with the University of Minnesota Rochester. Already the program has over thirty-five graduates.
"When I conduct our exit interviews with our graduates, I find students consistently praise the quality and rigor of the program," said Director of MBA Programs at the UMD Labovitz School of Business and Economics, Professor Rajiv Vaidyanathan. "They say they actually think differently as a result of going through the program and feel they are better managers and more valuable contributors to their organization as a result."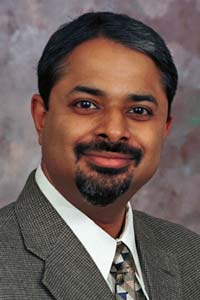 Professor Rajiv Vaidyanathan
Professor Vaidyanathan went on to explain that students say they chose the UMD Labovitz School of Business and Economics MBA Program over competing alternatives because of the AACSB accreditation, a prestigious business school accreditation that is shared by only three graduate business programs in the state. (AACSB stands for Association to Advance Collegiate Schools of Business.) He says that they also appreciate the convenience of having classes right in Rochester. After completing the Program, graduates have praised its rigor and the quality of the faculty (who drive down from Duluth to teach face-to-face classes in Rochester). Students were also impressed by the quality of their fellow students, who bring diverse perspectives from different functional areas and different industries.
According to Vaidyanathan, "Students say they felt invigorated and excited by the fact that they were in classes with engineers, accountants, research scientists, human resource managers, and more. They were amazed that a group of people could look at the same case material and pull out radically different ideas to discuss. This enriched their understanding of the material and helped them appreciate different perspectives to business problems."
The UMD Labovitz MBA Program in Rochester draws students from a variety of businesses in southern Minnesota including the Mayo Clinic, IBM, Hormel, McNeilus, Pemstar, Watkins and Think Credit Union. The program is designed to provide a high-quality, practical, graduate-level degree in business to working professionals.
Classes run on alternate weekends on Friday afternoon and Saturday morning. This schedule allows students to complete the program without sacrificing their careers or their families. The face-to-face classes (taught almost entirely by doctorally qualified, research-active professors from the UMD Labovitz School of Business & Economics) allow for dynamic and active group discussions that firmly tie management theory to business practice.
The curriculum provides a solid foundation in all the core functional areas of business while allowing the flexibility to bring in current topics of relevance. Subjects may range from global economic issues and organizational communication management, to the implications of the Sarbanes-Oxley Act for managers. The AACSB also requires accredited schools to have continuous improvement processes in place for ensuring currency and comprehensiveness of the curriculum.
Long-term plans already in development include the offering of a special focus on Healthcare Management within the MBA program. "The UMD Labovitz School is building a strong foundation in healthcare management," said Vaidyanathan. "With the successful launch of our undergraduate major in healthcare management in Fall 2005 and the hiring of new faculty in the area, it makes sense that we serve our markets both in Duluth and in southern Minnesota that have a need for graduate-level courses in healthcare management. After all, healthcare is a major industry in Duluth and several of our MBA students in Rochester work for the Mayo Clinic. They have a particular interest in applying management concepts to the healthcare industry."