Communication Associate: Public Relations
| Lori Melton |
lmelton@d.umn.edu
| (218) 726-8830
---
August 1, 2006
Susan Beasy Latto, Director, UMD Public Relations 218 726-8830 slatto@d.umn.edu
Michael L. LeVasseur, NCGE Executive Director 256-782-5293
Article by UMD Professor Selected "Best Content Article for 2006"
by the National Council for Geographic Education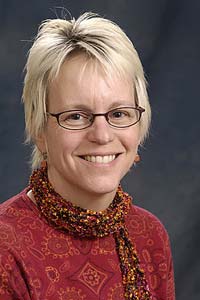 Professor Paula Pedersen
The National Council for Geographic Education (NCGE) Journal of Geography Awards has selected an article written by UMD Assistant Psychology Professor Paula Pedersen as the recipient of its Best Content Article for 2006. Article co-authors are Pat Farrel, UMD Associate Professor of Geography, and Eric McPhee, UMD student.
The article, titled "Paper versus Pixel: Effectiveness of Paper versus Electronic Maps to Teach Map Reading Skills in an Introductory Physical Geography Course", was chosen from works published in the six most recent issues of the Journal of Geography.
Professor Pedersen, Professor Farrel, and Eric McPhee will be presented a plaque at the NCGE October annual meeting in Lake Tahoe, Nevada. The NCGE was chartered in 1915 to promote geographic education at all levels of instruction. It currently has 3,200 members worldwide.