The UMD Visualization and Digital Imaging Lab, together with GRAVEL (Games Research and Virtual Environment Lab), a University of Minnesota system-wide campus group, is sponsoring the first annual UMD Games Symposium, an interdisciplinary, intercampus event.
The UMD Games Symposium is set for Friday, April 21, from 9 a.m. until 3 p.m. in the Rafters, 3rd floor, Kirby Student Center. The event is free and the public is cordially invited.
The Symposium showcases gaming technologies and scholarship in an effort to promote and advance understanding of the important new medium of the video game. The morning features speakers, and the afternoon showcases games and technology.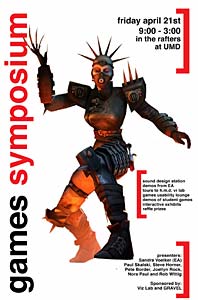 Activities and demonstrations include:
a sound design experiment station,
BESTBUY gaming demos,
demos from EA,
hands-on art game-making activities,
a games usability lounge,
demos of student games,
along with prizes and refreshments
Complete Schedule:
9-9:10 Welcome & Intro -- Lisa Fitzpatrick (UMD-Viz Lab/GRAVEL)
9:10-9:30 Nora Paul (UMTwin Cities-Director Institute for New Media Studies/GRAVEL) "Modding Neverwinter Nights"
9:40-10 Paul Skalski (UMD-Communications) "Social Scientific Research on Video Games"
10:10-10:30 Steve Horner (Duluth-Composer/Sound Designer) "Desktop Sound Design"
10:40-11:00 Rob Wittig (UMD-Composition) "Games and Narrative"
11:10-11:30 Pete Border (UMTwin Cities-Physics/GRAVEL)"Online Computer Science Game Design"
11:40-12:20 Sandra Voelker (artist from Electronic Arts, the largest American video game manufacturer) "Creating Graphics in an interactive world"
12:30-3:00 Hands-on games demos in Rafters & Atrium:
BESTBUY Gaming Demos
Student and faculty interactive design/game demos: Mariana Waisman, Joellyn Rock, Eun-Kyung Suh (UMD Art & Design)
Tours of head mounted display virtual reality lab - Pete Willemsen (UMD-Computer Science)
Sound Station (Steve Horner)
Game Usability Lounge (UMD Paul Skalski)
Parking information and a campus map are available at
http://www.d.umn.edu/vdil/