Communication Associate: Public Relations
| Lori Melton |
lmelton@d.umn.edu
| (218) 726-8830
---
April 17, 2006
Susan Beasy Latto, Director, UMD Public Relations 218 726-8830 slatto@d.umn.edu
Candice Richards, UMD Facilities Management 218 726-8261 crichards@d.umn.edu
UMD to Celebrate Tischer Creek
at Ceremony
April 20
10:30 a.m.
New Campus Signage Created
Environmental Theme is "IT ALL COMES DOWN TO YOUR WATER!"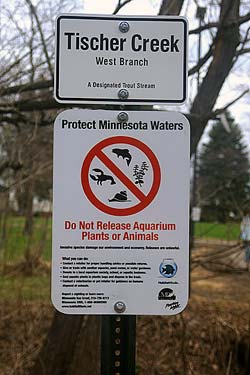 UMD One of Few Campuses with a Live Trout Stream
As part of "Beautiful UMDay" April 20, a special ceremony unveiling 20 newly created signs marking the path of Tischer Creek through the UMD campus will be held at 10:30 a.m. behind the UMD Stadium Apartments, just off St. Marie Street. THE PUBLIC IS CORDIALLY INVITED.
The signs will be placed at 10 locations on the campus providing information about Tischer Creek and raising awareness about this unique resource, and the important need to protect it. The public is cordially invited to attend.
UMD is one of a very few campuses in the country to have its own live trout stream!
Tischer Creek (a natural, live trout steam) runs a total length of 11.3 miles through its watershed. Beginning just above the Martin Road, it flows through the UMD campus, to the Mt Royal Shopping Center, and enters Lake Superior at UMD's Glensheen Historic Mansion. Tischer Creek is also referred to as Congdon Creek. Duluth has a total of 42 named streams within the city limits.
Theme for the week-long Earth Week activities (April 17-21) is "IT ALL COMES DOWN TO YOUR WATER" with speakers, campus events, student-neighbor clean-up projects and educational materials all focused on responsible environmental behavior and the preservation and protection of Tischer Creek. The important message being put forth is that the quality of our water directly depends upon what we do on our land.
Hundreds of UMD students, faculty and staff have been out all this week picking up litter all around the campus and in the UMD neighborhood (joined by area residents).