Theme is
"IT ALL COMES DOWN TO YOUR WATER"
Activities Continue April 17-21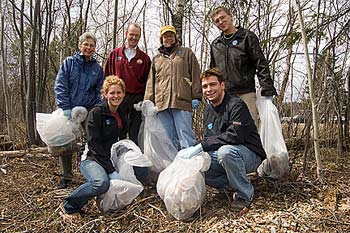 UMD students, faculty and staff will celebrate "Beautiful UMDay" on April 20 with a series of day-long events focused on the reduction of litter and the importance of water quality. The day is part of week-long Earth Week activities scheduled on the UMD campus April 17-21. All events are free and the public is cordially invited. The entire University of Minnesota is celebrating a "Beautiful U Day" on April 20.
Theme for the week is "IT ALL COMES DOWN TO YOUR WATER" with speakers, campus events, student-neighbor clean-up projects and educational materials all focused on responsible environmental behavior and the preservation and protection of Tischer Creek, a beautiful, natural trout stream which runs through the UMD campus.
It is important to note that UMD is thought to be one of a very few campuses in the country to have its own live trout stream. Tischer Creek runs a total length of 11.3 miles through its watershed. Beginning just above the Martin Road, it flows through the UMD campus, to the Mt Royal Shopping Center, and enters Lake Superior at UMD's Glensheen Historic Mansion. Tischer Creek is also referred to as Congdon Creek. Duluth has a total of 42 named streams within the city limits.
A special ceremony unveiling 20 newly created signs marking the path of Tischer Creek through the UMD campus will be held at 10:30 a.m. on April 20, behind the UMD Stadium Apartments, just off St. Marie Street. The signs will be placed at 10 locations along the creek, to raise awareness about this unique resource and the important need to protect it. The public is cordially invited to attend.
Other Campus Activities and Promotions Include:
Thursday, April 20--12 noon in the Garden Room, 3rd floor Kirby Student Center,
Join Environmental Program Coordinator Gina Temple-Rhodes for a look at the past, present and future of WLSSD's role in protecting the St. Louis River.
Thursday, April 20--all day
Free Car Litter Bags handed out at all UMD Parking Lot-Pay Lots
Friday, April 21--12 noon in the Garden Room, 3rd floor Kirby Student Center,
Karen Turnboom, Fiber/Materials/Energy Manager at Stora Enso Duluth Recycled Pulp Mill, will talk about paper recycling at the Stora- Enso recycling facility in West Duluth. The mill uses nearly 1,000,000 pounds of recovered paper each day! Learn how UMD paper that is recycled here in Duluth returns to Duluth in the form of other products.
Wednesday, April 26--12 noon in the Garden Room, 3rd floor Kirby Student Center,
"The Rain Garden and Beyond", The award-winning UMD Storm Water Pollution Prevention Program will be holding its annual meeting. This meeting will provide members of the UMD campus and neighborhood an opportunity to review the UMD Rain Garden and other 2005 projects and to learn about plans for 2006. Refreshments will be served.
All Week, April 17-21 on UMD Campus:
Campus cleanups- whole classes and other groups picking up litter.
Tischer Creek Clean-up Saturday, April 22, 10 AM - 1 PM starting and ending at UMD Grounds Fleet Building.
Student Organization Neighborhood Cleanup - Saturday, April 29, beginning at Portland Square, 4th Street & 10th Ave. East
<http://www.d.umn.edu/ehso/streamcleanup/other_activities.html>
Pledge: Support for Fair Trade Coffee and reduce waste through MPIRG. Receive a FREE reusable coffee cup and FREE Fair Trade coffee refills all week at the MPIRG KSC table.
FREE STUFF and more information at the "Beautiful UMDay" table in front of the bookstore
SIgn-up begins for Student-Neighbor Furniture Pickup in May. For disposal of items too big for normal trash.
NOTE: This great student-neighbor project is now in its 4th year.