Lecture and Reception Set for May 3
Public is Cordially Invited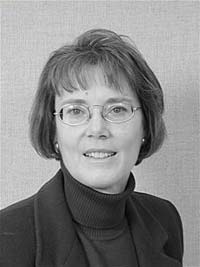 Barbara Elliott, Professor, Department of Family Medicine, School of Medicine Duluth, has been named the recipient of the 2005-06 UMD Chancellor's Award for Distinguished Research. UMD faculty members who receive this award are honored for their excellence in research, scholarly contributions to their field, and dedication to student research in education.
The award will be presented to Dr. Elliott at a ceremony set for May 3 at 3:15 PM in the Life Science Building, room 175, on the UMD campus Following the award, Professor Elliott will present a seminar of her current research entitled "At Risk Youth: We Can Make a Difference". A reception will follow in the Griggs Center, 2nd floor, UMD Kirby Student Center. The public is cordially invited.
Dr. Elliot is also a faculty associate in the Center for Bioethics. She teaches Medical Ethics, and has had continuous research funding since 1984. She has received grants from Centers for Disease Control and Prevention, HRSA (Maternal Child Health Bureau), National Cancer Institute, the Minnesota Departments of Children, Families and Learning and of Economic Security, the Healthier Minnesota Community Clinics Fund, and local foundations.
Dr. Elliott's research focuses on social justice issues in health care settings. Currently most of her research evaluates outcomes of access to health care for at-risk youth. These research projects fund a clinic that serves homeless youth in Duluth, and a demonstration project providing health, social welfare and child care to teen-families. Other projects have documented the impact of improving care for those living with family violence, in rural settings, as part of a minority ethnic group, with mental health issues, in poverty, and at life's end. Her publications have gained the attention of the AMA, the Institute of Medicine, the legislature, and the media as they describe needed improvements in our health care system.
Her education includes degrees from the University of Minnesota, studies in Europe, a Visiting Scholar at the Hastings Center, and a Fellowship with the Kellogg National Leadership Program.