Communication Associate: Public Relations
| Lori Melton |
lmelton@d.umn.edu
| (218) 726-8830
---
April 4, 2006
Susan Beasy Latto, Director, UMD Public Relations 218 726-8830 slatto@d.umn.edu
Mike Raschick, Head, UMD Dept. of Social Work 218 726-7642 mraschick@d.umn.edu
UMD Professor Dennis Falk Presented
University of Minnesota Award for Outstanding Contributions to
Post Baccalaureate Graduate and Professional Education
Dennis Falk, UMD Professor of Social Work, has been presented the Award for Outstanding Contributions to Post Baccalaureate Graduate and Professional Education from the University of Minnesota. The prestigious award is presented yearly to eight U of M faculty members. Professor Falk is the first UMD faculty member to receive this award.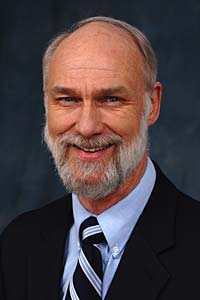 The award "recognizes faculty who engage post-baccalaureate, graduate, and professional students in a community of intellectual inquiry, who are significant mentors and role models for graduate and professional students, and who develop and promote activities which help students understand the larger context of their intended professions. The honor is awarded to exceptional candidates in recognition of outstanding performance in post-baccalaureate, graduate, and professional education in the following areas: excellence in instruction; involvement of students in research, scholarship and professional development; development of graduate or professional instructional programs; and advising and mentoring."
Richard McCormick, Chair of the U of M Senate Committee on Educational Policy, said, "Receiving this award recognizes the recipient as a member of a very distinguished group of faculty who exemplify the University of Minnesota's commitment to quality education."
The award is one of the highest honors that a University of Minnesota faculty member can receive. The selection process is rigorous, requiring detailed documentation of accomplishments in teaching, research, and service--including 10 letters of support from faculty and alumni.
Professor Mike Raschick, head of the UMD Department of Social Work said, "Those of us who know Professor Falk know that he is extremely deserving of this award. It is personally hard to me to imagine anyone in the U of M system who has contributed more to graduate education. It is wonderful to have him receive the formal recognition he so richly deserves."
The award recognizes Professor Falk as a Graduate/Professional Distinguished Teaching Professor of Social Work, and qualifies him for induction into the University of Minnesota Academy of Distinguished Teachers.