Communication Associate: Public Relations
| Lori Melton |
lmelton@d.umn.edu
| (218) 726-8830
---
September 23, 2005
Susan Beasy Latto, UMD Director of Public Relations 728-5279 slatto@d.umn.edu
Erik Larson, UMD Sr. Engineer / Project Manager 726-6915, elarson@d.umn.edu
Candice Richards, Associate Director Facilities Management 726-8261 crichar1@d.umn.edu
UMD Rain Garden Completed
Grand Opening Demonstration and Public Tours
Set for September 29
The public is cordially invited to tour the newly completed UMD Rain Garden located on the UMD Campus at 223 College Street.
Guided tours will be conducted immediately following the Grand Opening Ceremony and Demonstration set for Thursday, September 29, at 11:30 a.m. Tours will run until 1 p.m.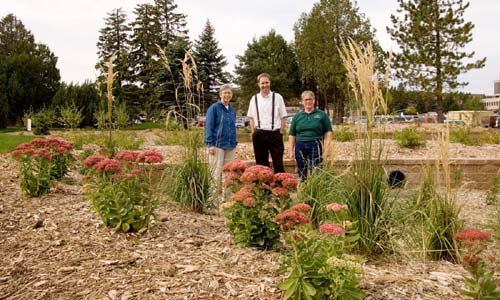 The 1/3 acre garden was constructed at UMD to protect Oregon Creek and Lake Superior from pollution carried by rainwater running off the largest parking lot on campus. The UMD Rain Garden is planted with a combination of native plants and cultivated varieties that will withstand the changing moisture levels, as they slow, cool and filter the stormwater.
Stormwater and snow melt carry salt, sand, trash, oil and other pollutants from any large paved areas through the creeks to Lake Superior. The Rain Garden provides a model on the UMD campus for stormwater education for the entire community. It is the largest demonstration rain garden in the Twin Ports region.
UMD Rain Garden
Public Grand Opening Dedication and Demonstration
Thursday, September 29
11:30 a.m. program
Noon - 1 p.m. Garden Tours
Refreshments Served
223 College Street
(in front of the UMD Heating Plant / Lund Building)
Media Parking available adjacent to the garden