Grand Opening Events Are September 13-16
Public Dedication Ceremony Set for
11 a.m.
September 16
Dedication ceremonies for the stunning new $33 million James I. Swenson Science Building are set for 11 a.m., Friday, September 16 in the atrium area of the building. Located on Kirby Drive (just off College Street) the three-level structure contains teaching, research and administrative space for the Departments of Chemistry & Biochemistry, and Biology. It ushers in state-of-the-art design for science education and research in the 21st century. The expansive layout incorporates two wings: a research wing and a teaching wing. The structure is the 4th new building constructed on the UMD campus since 2001.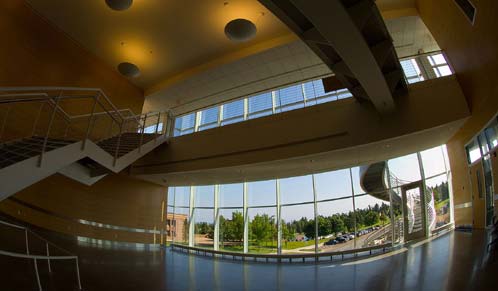 The striking exterior features a combination of brick, stone and metal and includes a skyway over Kirby Drive connecting it to the adjacent Life Science Building. A large picture window on the front illuminates a two-story atrium and provides a full-scale view of scenic campus outdoor areas. Architects are Carol Ross Barney, Ross Barney & Jankowski, Chicago; Ken Johnson, Stanius Johnson, Duluth; with lab design by Ken Kornberg, Menlo Park, California. The contractor is M. A. Mortenson, Minneapolis.
The 110,000 gross square foot structure is named for Jim Swenson, a 1959 UMD chemistry graduate. Jim and Susan Swenson, through the Swenson Family Foundation, made a gift of $7.5 million to help fund the new building, providing impetus to local legislative leaders who led the way to secure the $25.5 million in state funding. (Please see accompanying profile of Jim Swenson following here)
"Jim Swenson has been a strong advocate for science education and undergraduate research opportunities as well as a great friend to UMD," said Chancellor Kathryn A. Martin. "This state-of-the-art building will provide outstanding opportunities for learning and inquiry as our scientific knowledge advances at an amazing pace. UMD is enormously grateful to the Swenson Family Foundation and to our area legislators for making this wonderful building possible."
The new facility is designed to meet the challenging needs of 21st century science education and research, and to encourage collaborative learning. It contains 16 faculty student research labs, 16 teaching labs, a computer teaching lab, several research specialty support rooms, a student study room, and a central classroom. Research labs are designed using an "open lab" concept to encourage interaction among all researchers in related disciplines. The "open lab" environment also enables spaces to expand and contract to accommodate changing research schedules.
The new building replaces laboratories built in 1949 (chemistry) and 1968 (biology) and will provide a high standard and a safe learning environment for complex experiments, research, and teaching. Over 1,000 students per semester will receive instruction in the building. All first and second-year chemistry, biochemistry and biology laboratory classes will be taught there.
"By any measure, UMD is one of the leading institutions in the nation in terms of providing opportunities for undergraduate students to do research with a faculty member," said James P. Riehl, Dean of the College of Science and Engineering (CSE). "During the last academic year more than 100 CSE students were involved in an undergraduate research project. CSE students regularly present the results of their research at regional and national scientific meetings. The Swenson Science Building will allow us to enhance and expand this vital role in providing superior science education."
UMD currently enrolls 1,000 students majoring in chemistry, biochemistry, biology and pre-professional health science programs. Faculty members in the Departments of Chemistry & Biochemistry, and Biology presently oversee 17 externally funded research projects totaling over $2.4 million. The Department of Biology advises over 700 students in several degree programs, more than any other department at UMD.
Nearing completion just outside the building is a towering, graceful sculpture titled "Wild Ricing Moon" by internationally known sculptor and leading environmental artist, John David Mooney. The 89-foot tall steel piece contains a large circle, 40 feet in diameter, representing the full, rice-harvesting moon of late summer--with out stretched curving lines moving through it, depicting the North Shore and natural features of the region. The large sculpture is being constructed at the BendTec company in Duluth.
Since 2001, UMD has completed construction on three other new buildings on the campus. They include: the UMD Library (opened fall 2001), the Robert W. Bridges Grounds/Fleet Building (opened winter 2001), and the Weber Music Hall (opened fall 2002.). Two other major building projects conpletions include a seven-story addition to Griggs Hall student residence (opened fall 2002), and the renovation of Kirby Plaza (opened summer 2004).