Communication Associate: Public Relations
| Lori Melton |
lmelton@d.umn.edu
| (218) 726-8830
---
October 26, 2005
Susan Beasy Latto, UMD Director of Public Relations 218 726-8830, 218 348-5688 (cell) slatto@d.umn.edu
Greg Ewald, UMD Facilities Management 218 726-8274 gewald@d.umn.edu
Outdoor Sculpture to be Erected on UMD Campus
Lawn of Swenson Science Building
Transport to UMD Beginning at 2 a.m. October 27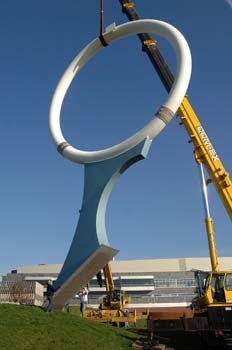 Plans to erect the first-half of the towering outdoor sculpture designed for the lawn of UMD's Swenson Science Building are set for Thursday morning, October 27 on the UMD campus.
The graceful sculpture, titled "Wild Ricing Moon" was designed by internationally known sculptor and leading environmental artist, John David Mooney. The 89-foot tall steel piece contains a large circle, 40 feet in diameter, representing the full, rice-harvesting moon of late summer- with out-stretched curving lines moving through it, depicting the North Shore and natural features of the region.
The 60 foot "moon" portion of the sculpture will be erected on Thursday morning, with the addition of the "rice stalk" section to be installed at a future date.
Because of its massive size, the piece will be transported beginning at 2 a.m. from the BendTec company on Garfield Avenue to UMD by Jeff Foster Trucking. The sculpture was fabricated at BendTec through the assistance of BendTec owner, Bob Meierhoff.
Once daylight arrives, in the early morning, the UMD Facilities Management Department and Lakehead Constructors will begin preparing the base to receive the sculpture. Lakehead Constructors will then erect the "moon" portion of the sculpture on its base on the lawn of the Swenson Science Building.