Duluth native Richard L. Quinn, entrepreneur, software developer, and owner of the third largest Century 21 in the United States, will be the featured speaker at the fifth annual UMD Labovitz School of Business and Economics (LSBE) "Professor for a Day" activities to be held on the UMD campus, Tuesday, October 25. He also owns prime grape vineyards and Opolo Wines in Paso Robles California.
Mr. Quinn will be speaking on the general topic of entrepreneurship and will relate how his Midwest work ethic has served him well in his entrepreneurship activities in California. He believes that his work ethic, plus his tenacity and optimism, have been major contributors to his success.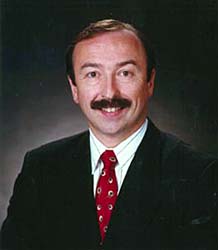 UMD "Professor for a Day" began five years ago as a way to connect LSBE alumni with current students and staff. Alumni are invited back to campus to step into the role of "Professor for a Day" through presentations and networking opportunities with students. This event is an opportunity for students to learn the relationship between the academic world that they are currently in and the realities they will face in the world of work.
Born and raised in Duluth, Minnesota, Mr. Quinn graduated from Morgan Park High School in 1967 and went on to attend the University of Minnesota Duluth (UMD). With the advent of Spirit Mountain in 1975, he saw a possibility in the winter sports business and opened a popular ski and ski accessory store in Spirit Valley. He sold his interest in the operation to C.Z. Wilson and joined the St. Louis County Sheriff's Department in 1976. Seeing California as a land of opportunity, he moved there in 1979.
He attended real estate school and sold his first house the day his license came in the mail. In 1983 he arranged to buy a Century 21 real estate office with only 6 agents. By 1986 Rick had built that office up to 135 agents and became the third largest Century 21 in the United States while concurrently developing software programs with applications for real estate companies. Rick's Real Smart and Power Presentations software both sold well because of quality and market timing. Currently Century 21 America Realty is still very much the backbone of Rick's varied interests and remains number one in the area.
As his business grew, Rick became very impressed with the quality of California wines. This appreciation turned into a hobby gone wild and in 1995 Rick began the acquisition of over 300 acres of prime grape vineyards on the central coast of California. As well as the production of estate bottled Opolo Wines, Rick sells grapes to leading Napa Valley wineries such as, Niebaum-Coppola, Hess Select, St. Supery , Fetzer and Wild Horse in Paso Robles.
His very popular, award-winning wines and vineyard festivals, which embody a delightful Serbian touch, have become sellouts almost a year in advance. The Opolo label is well established as an ultra premium wine and can be ordered in many famous restaurants, such as Spago's in Beverly Hills, The Ritz Carlton in Marina Del Rey and many fine restaurants owned by world renowned chefs such as Bobby Flay and Emeril Lagassi.
Rick and his wife Maribeth are the parents of a 21 year old daughter Briana who is graduating with a business degree in May, a 15 year old son Paul, and a 13 year old daughter Ricki, all of whom help him at the winery during festival weekends. People around Rick see his dynamic energy and equate his life with the "Midas Touch". Rick equates his successes to a quote written in his 1967 high school year book which read: "If for good times he were paid, he'd have a fortune made!" and Rick says "It seems I have done both."