Communication Associate: Public Relations
| Lori Melton |
lmelton@d.umn.edu
| (218) 726-8830
---
October 3, 2005
Susan Beasy Latto, Director of Public Relations 218 726-8830 slatto@d.umn.edu
William Wade, Vice Chancellor for University Relations 2129 726-8831 wwade@d.umn.edu
UMD Chancellor Kathryn A. Martin Elected Chair of
NCAA Division II Presidents' Council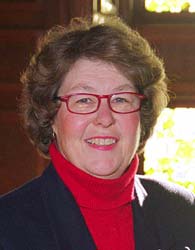 University of Minnesota Duluth (UMD) Chancellor Kathryn A. Martin has been elected chair of the NCAA Division II Presidents' Council.
In her duties as chair, Chancellor Martin serves as spokesperson for Division II. She also serves as a member of the Association's Executive Committee, and as an ex officio member of the Division II Budget and Finance Committee.
She will preside over the Division II Business Session at the January 2006 NCAA Annual Convention in Indianapolis, Indiana.
Chancellor Martin has been a seated member of the Presidents' Council since January 2003. Her term on the Presidents' Council runs until January 2007.