Communication Associate: Public Relations
| Lori Melton |
lmelton@d.umn.edu
| (218) 726-8830
---
May 18, 2005
Susan Beasy Latto, Director, UMD Public Relations 218 726-8830 slatto@d.umn.edu
Kjell Knudsen, Dean, UMD Labovitz School of Business and Economics 218 726-7281 kknudsen@d.umn.edu
Wayne Jesswein, Associate Dean, UMD Labovitz School of Business and Economics 218/726-7297 wjesswei@d.umn.edu
UMD LABOVITZ SCHOOL OF BUSINESS AND ECONOMICS NAMES BRUCE W. STENDER
BUSINESS PERSON OF THE YEAR
The UMD Labovitz School of Business and Economics is proud to announce the 34th recipient of the Business Person of the Year, Dr. Bruce W. Stender.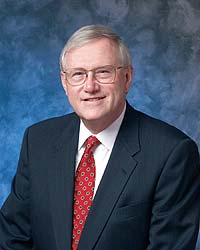 Dr. Stender is President and Chief Executive Officer and a Principal of Labovitz Enterprises, a Duluth headquartered firm with interests in various businesses. As Chief Executive Officer, he is responsible for the management and operations of the Labovitz Hotels, which operates as the Lion Hotel Group. They include the Duluth Holiday Inn Hotel & Suites and Holiday Center Shopping Mall. Prior to joining Labovitz Enterprises, Stender was President of the College of St. Scholastica. In 1978 he was chosen One of Ten Outstanding Minnesotans and received an Honorary Doctorate of Law Degree from the College of St. Scholastica in 1981.
Dr. Stender has been civically active serving on numerous business, health care, and community and statewide boards and committees. Stender has combined many years of experience in business and education with particular emphasis on organizational development, operations, management, and corporate and non-profit board governance.
Each year the Labovitz School of Business and Economics at the University of Minnesota Duluth recognizes the achievement of a business person of the region. Individually and collectively, the winners of the award have amassed an impressive list of achievements in business and contributions to the betterment of the region. The award is designed to identify and recognize individuals who demonstrate a commitment to their companies, their employees and their community.
The Business Person of the Year was presented at the 13th Annual Joel Labovitz Entrepreneurial Success Awards special luncheon and ceremony held at the Duluth Entertainment Convention Center (DECC) Wednesday, May 18, 2005.