Communication Associate: Public Relations
| Lori Melton |
lmelton@d.umn.edu
| (218) 726-8830
---
May 13, 2005
Susan Beasy Latto, Director, UMD Public Relations, (218) 726-8830, slatto@d.umn.edu
Robert Appleton, Associate Professor, UMD Department of Art and Design, (218) 726-6141, rappleto@d.umn.edu
UMD Professor Features Speaker at
International Graphic Design Conference
in Istanbul, Turkey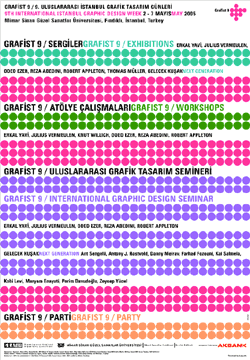 Robert Appleton, UMD Assistant Professor, Department of Graphic Design, was one of the featured speakers at the Grafist 9 International Istanbul Graphic Design Week conference held from May 2-7 in Istanbul, Turkey.
UMD Graphic Design students Kai Salmela and Tony Rostvold represented the United States in a "Next Generation" show. The work of Appleton, Salmela, and Rostvold was shown at an exhibition at Mimar Sinan University of Fine Arts.
At the final event, Appleton played Jazz piano while his students created pieces of design inspired by sound in front of an audience of Turkish, German, Dutch, Greek, Iranian, Israeli and American students.
A catalogue of the work is available at http://www.grafist.org/
Rostvold also created a website with pictures from Istanbul: http://www.designernetwork.org/