Communication Associate: Public Relations
| Lori Melton |
lmelton@d.umn.edu
| (218) 726-8830
---
May 4, 2005
Contact: Susan Beasy Latto, UMD Director of Public relations 218 726-8830 slatto@d.umn.edu
UMD Graduate Commencement
Set for
Thursday, May 12
7 p.m. UMD Romano Gym
UMD graduate commencement ceremonies are set for Thursday, May 12 at 7 p.m. in the UMD Romano Gym. Just over 185 students will receive masters degrees, including 17 international students from seven countries.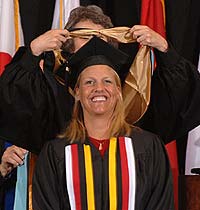 Family members of seven of the international graduates will travel from China, India, Sri Lanka, Indonesia and Canada to attend the event. UMD Women's Head Hockey Coach Shannon Miller and UMD Women's Head Basketball Coach Karen Stromme will each receive a master of education degree.
Featured speaker for the evening will be UMD Associate Professor Carol Bock. Carol A. Bock is head of the UMD Department of English. She formerly served as director of Graduate Studies in English at UMD and as chair of the University of Minnesota Graduate Research Advisor Committee.
Professor Bock received her bachelor of arts in Interdisciplinary Humanities from Macalester College in 1973, and the Ph.D. in English, with an emphasis on 19th-century British literature, from the University of Wisconsin-Madison in 1982. Her publications include the book, Charlotte Bronte and the Storyteller's Audience, and articles in journals such as Victorian Literature and Culture, The Journal of Narrative Technique, and Tulsa Studies in Women's Literature. Professor Bock's writing also features prominently in anthologies of Bronte scholarship and criticism published by Cambridge University Press and Palgrave/Macmillan. Currently, she is conducting research on the lives and careers of two relatively obscure 19th century English authors, Katharine and Dr. Anthony Todd Thomson. The project is a study in the history of authorship and will contribute to the newly emerged discipline of book history.