Communication Associate: Public Relations
| Lori Melton |
lmelton@d.umn.edu
| (218) 726-8830
---
March 24, 2005
Susan Beasy Latto, Director, Public Relations 218 726-8830 slatto@d.umn.edu
Leann Scalia, Director, Children's Place 218 726-6727 lscalia@d.umn.edu
UMD Opens New Day Care Center
UMD Children's Place
Begins Operation March 28
UMD Children's Place is set to begin operation Monday, March 28, providing quality, nurturing care and education for young children in a beautiful, new facility located at 260 Kirby Plaza on the UMD campus.
Licensed by the State of Minnesota Department of Human Services, Children's Place will provide care for children between the ages of 6 weeks to 5 years. Hours of operation are 7:30 a.m. to 5 p.m. The program will primarily serve the UMD community--serving the children of UMD faculty, staff and students, with community enrollment based on space availability. Limited openings are currently available to the community.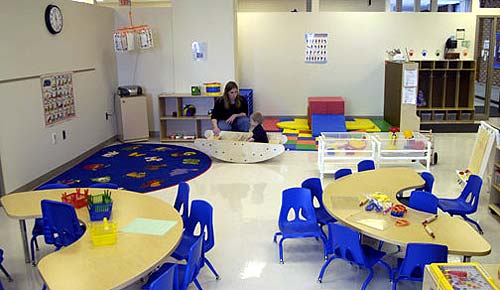 Children's Place is operated under the direction of the UMD College of Education and Human Service Professions (CEHSP) along with collaboration from many other UMD departments including: the Department of Early Childhood Education, the Department of Communication Sciences and Disorders, Tweed Museum of Art, U of M School of Medicine Duluth, University for Seniors, and others.
Each classroom is staffed by a teacher and an assistant teacher who are licensed educators. UMD student employees serve as assistants. The program is licensed to provide full-time care to 42 children. Distribution of age groups is: eight infants (6 weeks to 16 months), fourteen toddlers (16 months to 33 months), and twenty pre schoolers (33 months to first day of school). Children's Place is an inclusion program and some spaces will be reserved for children with special needs.
Diversity Statement: UMD Children's Place strives to honor, support and celebrate the diversity of its children, families and staff.
For more information about enrollment, please phone (218) 726-6635
http://www.d.umn.edu/cehsp/childrens_place/