Communication Associate: Public Relations
| Lori Melton |
lmelton@d.umn.edu
| (218) 726-8830
---
June 13, 2005
Susan Beasy Latto, UMD Director of Public Relations 218 726-8830 slatto@d.umn.edu
Joe Gallian, Professor, UMD Department of Mathematics and Statistics 218 726-7576 jgallian@d.umn.edu
UMD Professor Elected President
of Math Association of America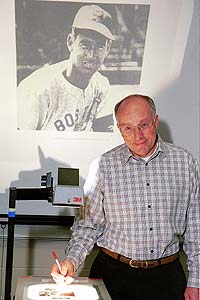 University of Minnesota (UMD) Mathematics Professor Joe Gallian has been elected president of the Math Association of America, the largest national professional society focused on undergraduate education. He will begin his four-year term in January 2006, first serving as president-elect, and then as acting president in January 2007.
Professor Gallian has taught at UMD since 1972. He has authored five books and published articles in many academic journals. His current research is focused on graph theory.
He is a frequent lecturer on a variety of math-based subjects such as credit card security, bar codes and postage codes. He recently used his mathematical expertise to break the Minnesota driver's license code.
Professor Gallian has previously served as second vice president of the 27,000 member Math Association of America. He has been a member for 30 years.