Colorado's Former Lt. Governor Joe Rogers
to Present Dedication in Honor of Martin Luther King, Jr.
Thursday, February 17, 2005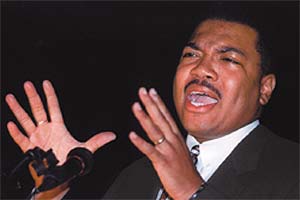 Who, When: Joe Rogers, Colorado's former Lt. Governor, served as the youngest lieutenant
Where: governor in the country and the highest ranking African American state elected official. He will present The Dream Alive Program at UMD's Kirby Ballroom on the 17th of February 2005, from 4:30-6:00pm.
What: The Dream Alive Program is dedicated to the memory and legacy of Martin Luther King, Jr. and leaders of the Civil Rights Movement. The program has been presented at colleges, corporations and conferences throughout the United States. This live commentary will take audience members back in time to the renowned 1963 March On Washington where King delivered his "I Have A Dream" speech to his final words delivered in 1968 in Memphis, Tennessee. The program has been described as "uncanny, electrifying, spellbinding, awesome, touching [it's almost] like King was in the room."
Joe Rogers will speak to the relevance of Dr. King's message to contemporary life -- and the relevance of the message to all people.
For everyone who has yearned to hear King's words and vision personally, with an up to date perspective, this is an experience not to be missed. We have invited students, faculty, staff and the greater community to join us for a remarkable evening in dedication to keeping the dream alive.
A reception with refreshments will take place immediately following the program.
Sponsored by: UMD Office of Equal Opportunity, UMD Office of Equity Education and Services, African-American Learning Resource Center, UMD Vice Chancellor for Finance and Operations, and Duluth Public Schools Integration Program.
-What Others Have To Say About The Dream Alive Program featuring Joe Rogers
"Close your eyes ... it's as though King were here..."
-Scottsdale Progress Tribune
"... Uncanny, electrifying, spellbinding, awesome, touching like King was in the room..."
-Jennifer Williams, Director of Black Student Services at Colorado State University
"It was as though the late civil rights leader ... returned in the form of Joe Rogers..."
-Case Western Reserve University News
"Rogers captures King's sound and delivery so accurately that mental video kicks in, as do all the clichés of teary eyes, goose-bump arms and shouted amens. ... Anyone untouched by this bleeds ice."
-Hal DeKeyser, Editor, Scottsdale Progress Tribune.
"During the performance, no one spoke. No child cried. All seemed captured by the rhythm, the powerful vision that Rogers gave out."
-Arizona State University - The Devil's Advocate News
"But something happens when Rogers [speaks]. People who have seen the presentation say it's uncanny. 'King is in the room,' they say."
-The New Times
"Rogers seemed to touch everyone..."
-The Gateway Medallion
"Rogers voice filled the room, giving renewed life to the words of Dr. Martin Luther King, Jr."
-the Rocky Mountain Collegian
Joe Rogers
Biography
Joe Rogers represents a new generation of American leadership. In 2003, Rogers completed his history making term as the Lieutenant Governor of Colorado, where he held the distinction of serving as America's youngest Lieutenant Governor and only the fourth African American in U.S. history ever elected as a state's #2 chief executive. He was further honored when elected by his peers to serve on the executive committee of the National Conference of Lieutenant Governors.
Now a practicing attorney in Colorado, Rogers has been nationally recognized for his work and commitment to strengthen America, and in 2001 he received the Trumpet Award from Time Warner's Turner Broadcasting System. The Trumpet Award is one of the nation's highest honors bestowed in recognition of African American achievement and heralds the accomplishments of individuals who have made significant contributions to enhance the quality of life for all Americans. Persons who have received the award range from Muhammad Ali, former Supreme Court Justice Thurgood Marshall, Rosa Parks and Lena Horne to Tiger Woods, Secretary of State Colin Powell, National Security Advisor Condoleezza Rice, Nat King Cole and Sidney Poitier.
He has been profiled by The New York Times, The Washington Post, The Washington Times and Business Week, Ebony, Jet and Teacher magazines. Ebony called him a "political trailblazer." And The New York Times wrote he is a "young, articulate, energetic - and well prepared newcomer."
Rogers helped lead efforts to improve the lives of Colorado's children and the quality of Colorado schools. Moreover, following the September 11th terrorist attacks, he was one of the first state officials at ground zero and later was the first to call for Colorado to create its own Homeland Security Office. He worked extensively to expand job and economic opportunities for Colorado.
Expanding on his commitment to help strengthen the nation, Rogers created the acclaimed Dream Alive Program in dedication to the memory and legacy of Martin Luther King, Jr. The program's work is to increase the understanding of the enormous contributions that Dr. King imparted to the nation and is a passionate reminder that his wisdom and vision are timeless. In 2003, the company -- The Dream Alive Program, Inc. -- was formed to meet the increasing demand for the program throughout the United States. This live commentary has been described as "uncanny, electrifying, spellbinding, awesome, touching like King was in the room." The Rocky Mountain Collegian wrote, "Rogers' voice filled the room, giving renewed life to the words of Dr. Martin Luther King, Jr. " In 2005, Rogers will debut his inaugural book release -- The Letter to My Son, a remarkable book wisdom and inspiration for a life well lived.
Rogers worked his way through Colorado State University majoring in Business Administration and he received his law degree from Arizona State University, where he won the school's first ever national championship by winning the American Bar Association Negotiation Competition - a contest involving some 80 U.S. law schools. He practiced law with one of Colorado's oldest and largest law firms and served as Counsel to Colorado's former United States Senator Hank Brown. Rogers is married to Juanita and they have three young children - Trent, Jordan and Haley.