Communication Associate: Public Relations
| Lori Melton |
lmelton@d.umn.edu
| (218) 726-8830
---
February 7, 2005
Susan Beasy Latto, Director, UMD Public Relations, (218) 726-8830, slatto@d.umn.edu
Kjell R Knudsen, Dean, UMD Labovitz School of Business & Economics, (218) 726-7288, kknudsen@d.umn.edu
Dr. Rajiv Vaidyanathan, Associate Professor, LSBE, (218) 726-6817, rvaidyan@d.umn.edu
UMD Professor to Head
International Association for Consumer Research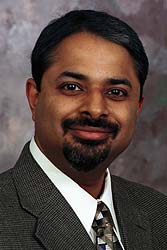 Dr. Rajiv Vaidyanathan, Associate Professor of Marketing at UMD's Labovitz School of Business & Economics was appointed Executive Director of the Association for Consumer Research (ACR) effective January 1, 2005. According to Dr. Debbie MacInnis, the 2004 ACR President, "Rajiv has all of the qualities that make a great Executive Director--organizational skills, people-skills, fiscal concern and efficiency, and commitment."
The Association for Consumer Research, founded in 1969, has a mission of advancing consumer research and facilitating the exchange of scholarly information among members of academia, industry, and government worldwide. With over 1700 active members, it is the largest and most prestigious organization of consumer researchers in the world.
Each year, ACR sponsors a North American conference that attracts over 800 scholars from around the world. ACR also sponsors global conferences each year in Europe, Asia-Pacific and Latin America. ACR co-sponsors numerous other conferences on consumer policy, consumer satisfaction and demographic issues in marketing.
The group also publishes Advances in Consumer Research (Proceedings of the North American Conference) and other books which are widely considered as leading publications in the field.
Dr. Vaidyanathan has taught marketing at the Labovitz School of Business & Economics located on the campus of the University of Minnesota Duluth since 1993. Since 2002, he has also been the Director of the school's MBA programs in Duluth and Rochester. He received his doctorate from Washington State University.