Communication Associate: Public Relations
| Lori Melton |
lmelton@d.umn.edu
| (218) 726-8830
---
April 7, 2005
Susan Beasy Latto, Director, UMD Public Relations, (218) 726-8830, slatto@d.umn.edu
Audrey Olson, Sr. Administrative Specialist, UMD Department of Human Resources, (218)726-6740, arolson@d.umn.edu
Verna Richardson, Office Specialist, UMD Kirby Student Center & Student Activities, (218) 726-7166, vrichard@d.umn.edu
Pine Island Student Named
UMD Student Employee of the Year
The University of Minnesota Duluth (UMD) has announced Erin Hawkins, manager of the UMD Kirby Information Desk, as the 2005 UMD Student Employee of the Year.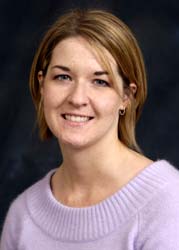 Erin Hawkins, a Senior from Pine Island, Minnesota has been working at the UMD Information Desk since the end of her freshman year, and was promoted to manager at the end of her sophomore year. Her managerial responsibilities include: supervising and training other student employees, keeping track of the lost and found, ordering and keeping the newspapers supplied, and keeping up to-date on all the events happening on UMD campus.
The National Association of Student Employment Administrators set aside the first full week in April to celebrate the value of student work. Student Employee of the Year is a program developed in cooperation with National Student Employment Week. This program offers employers the opportunity to acknowledge outstanding student employees for the valuable contributions they make to their office or department.
UMD first celebrated National Student Employment Week in April 1997 as a kick-off for the Student Employee of the Year Program for the 1997-1998 school year. UMD has had several students go on to win state, regional, and national "Student Employee of the Year" titles.