Communication Associate: Public Relations
| Lori Melton |
lmelton@d.umn.edu
| (218) 726-8830
---
April 1, 2005
Susan Beasy Latto, Director, UMD Public Relations 218 726-8830 slatto@d.umn.edu
Jack Bowman, Dean, UMD School of Fine Arts 218 726-7033 jbowman1@d.umn.edu
Glensheen Appoints New Director
Jack Bowman, Dean of the UMD College of Fine Arts, has announced the appointment of Wade Lawrence as director of Glensheen Historic Estate, effective April 11.
"Wade brings a wealth of experience in management of historic house museums," said Dean Bowman. "His knowledge of restoration and preservation positions him well to develop the national stature of Glensheen."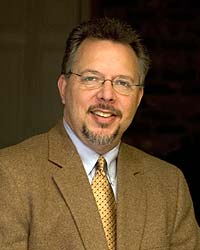 Mr. Lawrence comes to Duluth from Charleston, South Carolina where he was the assistant director of Drayton Hall, a National Historic Landmark. He has strong ties to the Duluth community, previously working as a photographer and consultant for the St. Louis County Historical Society, and an architectural draftsman with D.E. Stanius & Associates.
Mr. Lawrence's arrival coincides with the start of Glensheen's centennial celebration. A century ago Chester and Clara Congdon first saw the magnificent landscape that would become Glensheen. Completed in 1908 after three years of construction, Glensheen was built to resemble an early 17th century English country estate. It consists of a 39-room Jacobean-style mansion, a carriage house, a gardener's cottage, formal gardens, a boathouse, a clay tennis court and a bowling green.
Glensheen's operating budget comes primarily from tour admissions, rentals and donations.
For more information see Glensheen's website at:
http://www.d.umn.edu/glen/