News
Duluth Journal of Undergraduate Biology
Take a step out of the classroom and into the real world. Learn to communicate scientific ideas. Build your resume. Beginning next semester, the Department of Biology and Writing Studies will offer an oppertunity for students to publish and share their scholarly work while earning academic credit. Students will become authors, editors, and publishers for the first issue of the Duluth Journal of Undergraduate Biology.
You can apply to take this course for either Advanced Writing or as a Biology elective credit. Application for BIOL 3990/WRIT 4195
Marine Biology
Twenty UMD undergraduates recently visited the Friday Harbor Marine Laboratory on San Juan Island, Wash. to participate in the Field Studies in Marine Biology Course led by Professor Allen Mensinger. Students traveled aboard the RV Centennial to collect various marine invertebrates and fishes, and explored mud flats, beaches and the rocky intertidal areas to study the adaptation of animals to various habitats. (Read More)
Interdisciplinary Research
On September 13, UMD welcomed alumnus Brian Kobilka, recipient of the Nobel Prize in Chemistry. Kobilka received the 2012 Nobel Prize, along with another U.S. scientist, Robert Lefkowitz, for studies about how cells in our body sense their environments. These studies are key for developing better drugs. Kobilka graduated summa cum laude from UMD in 1977 with bachelor of science degrees in biology and chemistry. Read More
Forests of the Future
How will Northern forests react as our climate changes and temperatures rise? It's a question both practical and of increasing relevance, especially in northern Minnesota. A demonstration project to be launched this summer by Dr. Julie Etterson of the Department of Biology at University of Minnesota Duluth and The Nature Conservancy seeks answers to what, exactly, the forest of the future will look like. Read More
Wild Rice Under the Microscope
Dr. John Pastor and Brad Dewey of the Department of Biology have been research the impact of sulfate pollution on wild rice for over two years. Their research could help determine why Minnesota's famed wild-rice stands seem to be declining. And the results could help plot the future of the state's taconite iron-ore mining industry and the beginning of copper and nickel mining in Minnesota. By some estimates, the state may hold the largest untapped deposits of copper, nickel, and related metals in the world. Read More
John Pastor's Chronic Wasting Disease Study
John Pastor
, professor, Department of Biology and Angela Sharp, instructor, Department of Mathematics and Statistics, recently published a paper on a model of chronic wasting disease in deer populations (Ecological Applications 21: 1024–1030, 2011).
The model shows that the disease persists and destabilizes deer populations as carrying capacity increases. Sharp and Pastor are now researching how hunting can be used to control the disease.
Scholarship and Award Recipients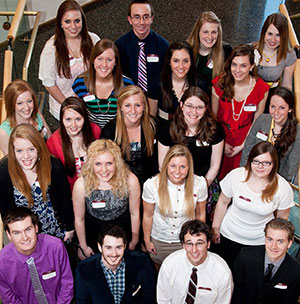 Students and faculty in the Department of Biology would like to express their grateful appreciation to all of the Scholarship and Award donors for their generous support. Their belief in today's generation helps provide a springboard to tomorrow's advancements in science and medicine. Read More
Lyle Shannon Receives Chancellor's Award for Excellence in Teaching
Lyle Shannon, Biology Department instructor and all-around great guy is this year's recipient of the Chancellor's Award for Excellence in Teaching.
Lyle's acceptance speech titled "The Evolution of a Biology Teacher" highlighted key developmental events that lead to him being the exceptional educator that he has become.