news
Awards and Scholarships Available to Biology Students
The Department of Biology encourages its students to apply for a variety of awards and scholarships available through the department and college. In order to be eligible students must be registered Biology or Cell & Molecular Biology majors in good academic standing who plan to register full-time in both the Fall and Spring semesters of the 2015-2016 academic year (students registered for Fall 2015 only may receive a pro-rated award depending on the scholarship). Applications are due March 2, 2015. More information about available awards and scholarships as well as application instructions can be found here.
Applications Encouraged for Summer 2015 BURST Research Program
The Department of Biology encourages interested students to apply to the Biology Undergraduate Research in Science and Technology (BURST) fellowship program. BURST is an intensive ten-week research opportunity for students interested in experiencing full-time in-depth research outside the classroom. BURST fellows will receive a $4,500 stipend in addition to $500 for research expenses. More information about the BURST program as well as application instructions can be found here.
Department seeks Two Assistant Professors in Plant Biology
UMD Biology invites applications for two tenure-track Assistant Professor positions beginning August 2015. We seek candidates with expertise in one or more of the following areas: plant cell/ molecular biology, plant physiology, and plant or fungal diversity. The positions are part of a broader initiative to build a strong program in plant sciences in the UMD Biology Department. Full details on the position and application process can be found here. Complete applications will be reviewed begining October 20, 2014 and will continue until the positions are filled.
Faculty Position in Geomicrobiology
Available at the Large Lakes Observatory
The Large Lakes Observatory (LLO) at the University of Minnesota Duluth (UMD) invites applications for a faculty position in the area of Geomicrobiology. The appointment can be made at a tenure-track or tenured level, with rank determined based on qualifications. Applying at both levels is permissible. Required qualifications include a Ph.D. (or equivalent) in a relevant field from a university with the equivalent of regional accreditation in the US system at the time of the appointment. The expected starting date is Fall 2015. A complete position description and application instructions are available online here.
UMD Lab Helps to Genetically Identify Community Apple Trees in Northern Minnesota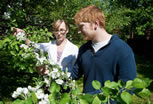 Undergraduate student Marshall Wedger and assistant professor Briana Gross collected and genetically identified apple tree leaves from the North Shore to gain a better understanding of the genetic makeup and history of the apple trees that grow in Northern Minnesota. Read More
Researchers Discover Siscowet Have Spectacular Vision
Using low-light cameras ad tanks that simulate the depths of Lake Superior, integrated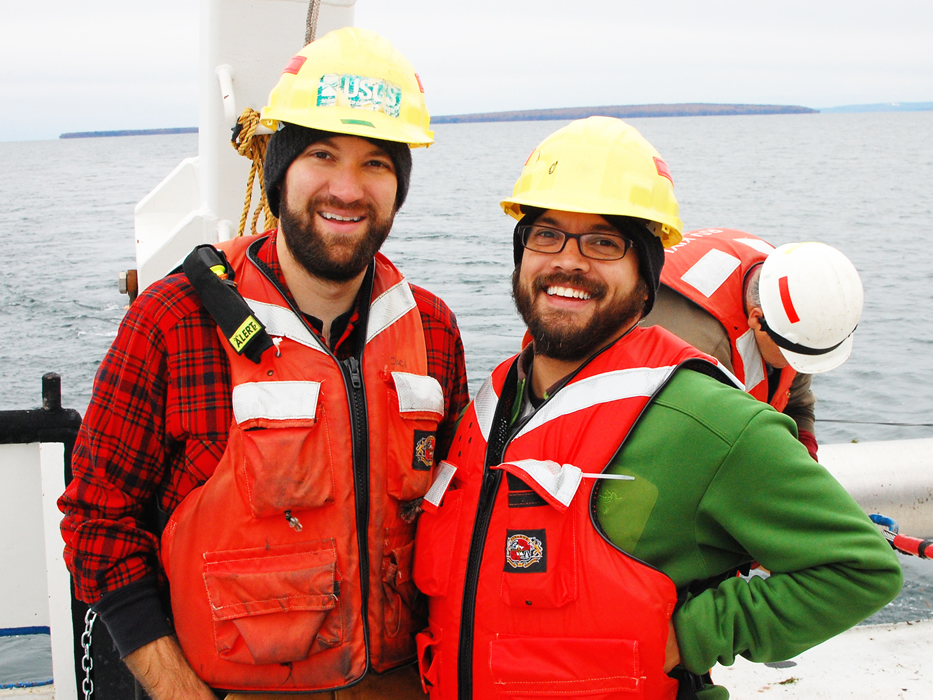 biosciences graduate student Trevor Keyler and cell and molecular biology undergraduate Lee Austin are shedding light on the pitch-black hunting conditions of Lake Superior's siscowet population. They, along with their graduate advisors, turned lab space in the Swenson Science Building Research Wing into a dark room, erecting tanks to store research subjects and blue/green LED lights to simulate the spectrum and quantity of light available in the depths of the lake to observe and study the hunting abilities of the siscowet. Read More